Details
Similar products
Info
Details
KONTAKT 60, an oxide dissolving contact cleaner, is highly recommended to regenerate corroded, heavily used and soiled contacts. Low contact resistance is restored, thus guaranteeing low voltage drop at even lowest contact pressures.

KONTAKT 61 is a special cleaning, lubricating and anti-corrosive agent designed for contacts and electromechanical moving parts, which have been cleaned using KONTAKT 60. KONTAKT 61 provides a high degree of protection against corrosion and its microscopically thin protective film guarantees a high degree of contact. Furthermore, KONTAKT 61 prevents abrasion and seizing of contact strips and rails.

KONTAKT WL, a cleaning agent, based on a solvent mixture ensuring a broad scope of effectiveness in prompt degreasing and cleaning of electronic components and electrical contacts.

You can order the three product at set price.
The set contains:
1 piece Kontakt 60 200 ml spray
1 piece Kontakt 61 200 ml spray
1 piece Kontakt WL 200 ml spray

Further informations you can find separate at the product categories.
Similar products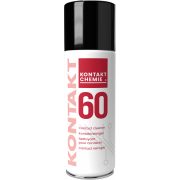 net 1 630 Ft+ VAT 440 Ft = brutto 2 070 Ft
net 1 663 Ft+ VAT 449 Ft = brutto 2 112 Ft
net 1 767 Ft+ VAT 477 Ft = brutto 2 244 Ft
Info